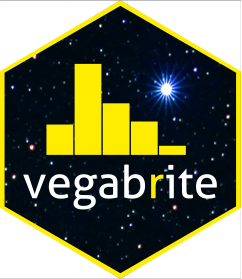 How to make a plot using vegabrite
introduction.Rmd
This vignette covers the basics of how to make a chart using vegabrite. For more about the design philosophy of the package, see the design vignette. For example charts see the examples vignette. For much more information about what is possible with Vega-Lite, see the Vega-Lite documentation.
Installation
vegabrite is not yet on cran but can be installed from github:
The basics: data + mark + encoding
All plots require data, a mark and encodings. To intialize a chart you use
Without the other components it will be empty! But this output can be piped into commands to add the other components. Some components can also be added directly via that function call.
Data
Still empty! Need to set mark and encoding
We could also have passed the data directly to vl_chart:
Data can also be passed as a url using vl_add_data_url or the url argument to vl_add_data. vl_chart should also be able to recognize if the argument to data is a url and treat it as such.
Mark
The 'mark' is the type of shape being plotted, e.g. 'point', 'line', 'bar'.
Without encodings, all the points show up on top of each other!
It can be passed without arguments besides the input spec (which often will be piped in), but also can take in arguments to change its properties.
Encoding
The encoding tells the plot what to use along the x or y axis, as well as what to use for color, tooltips, links, and other aspects of the plot that might be controlled by a column of your data. Encodings can also take constant values (generally with the value argument).
Functions to add an encoding are of the format vl_encode_* where the * is the name of the encoding, e.g. x:
Multiple encodings can be added; it does not matter what order they are added.
Type shorthands
A shorthand can be used to specify the type. The field name can be joined using a colon with a single letter abbreviation. The abbreviations are:
Type inference
When the data has been added to the spec already and is given directly by an R data.frame (rather than a URL or a transformation), the type can also be inferred and does not need to be given.
vl_encode
Each encoding can be passed by a separate function, or a single call to vl_encode can be used:
When not providing additional arguments for x or y encoding this form can be more succinct, but specifying each encoding separately can be easier when passing lots of arguments.
For help constructing a full encoding object to vl_encode one can use functions within vl list of functions.
View Composition
Sub-plots or 'views' can be combined in a number of ways. Layering assembles views into the same plot. Facetting splits views based on a column of data with the same encodings per view. Repeating splits views based on what field to use as one or two of the encodings. Concatenation combines arbitrary views together.
Interactivity
Parameters
Parameters enable interactive manipulation of charts. There are two main types of parameters – variable parameters and selection parameters. Variable parameters are added using vl_add_parameter. For selection parameters, see next section of this doc.
A parameter can be a simple value or expression that can be used in other parts of the spec, or it can be something that is mapped to user input via a binding.
An example of adding a parameter that is fixed:
The radius of the bar corners was set to a fixed variable of 15.
To bind a parameter to a user input, use the vl_bind_* family of functions, for example * vl_bind_range_input for binding to a slider * vl_bind_checkbox_input for binding to checkbox selections * vl_bind_radio_input for binding to radio selections * vl_bind_select_input for binding to dropdown selections * vl_bind_input for binding to any hmtl input * vl_bind_direct_input for binding to an externally defined element
An example of adding a parameter controlled by a range input:
Selections
More complex parameters are "selections" – these map data queries to a parameter. There are two types of selections – interval and point, which can be added using vl_add_interval_selection or vl_add_point_selection, respectively.
The vl_condition_* family of functions can be used to condition an encoding on the selection.
Interval Selections
Interval selections enable selecting an interval on the chart. Below shows an example of adding an interval selection and conditioning the color on that selection. If you select an area of the plot, that area will remain colored by the hp field, and the remainder of the color will be 'gray'.
Binding interval to scales
Interval selections can be controlled via the scales, using bind = 'scales'. This enables using the view to pan and zoom on the data. An example – drag the plot panel to shift the area shown.
Point Selections
A point selection enables directly interacting with points (or lines, areas) on the chart. In the below example, clicking on a point will cause it to change color to red.
These selections can be customized in wheter they respond to hover instead of click, whether they select the nearest point, how multiple items can be clicked, and how selections can be cleared. See (Vega-Lite documentation)[https://vega.github.io/vega-lite/docs/selection.html] for more that is possible with selections!
Binding legend to selection
A point selection can be controlled via the legend, using bind = 'legend'. For example: